Automated System for 3D scanning small objects

Equipped with high-resolution twin cameras, Rexcan DS2 is an automated white light scanner that is capable of providing users with detailed and precise data, obtained from scanning small and detail-rich objects like jewelry. Through its automated scanning function, Rexcan DS2 that has a built-in two axis (swing and rotation) not only enables users to get the measurement job done fast and conveniently, but it can always obtain consistent data regardless of how unskillful users may be.
The Simplified Jewellery Design Cycle: From Scan to Perfect Fit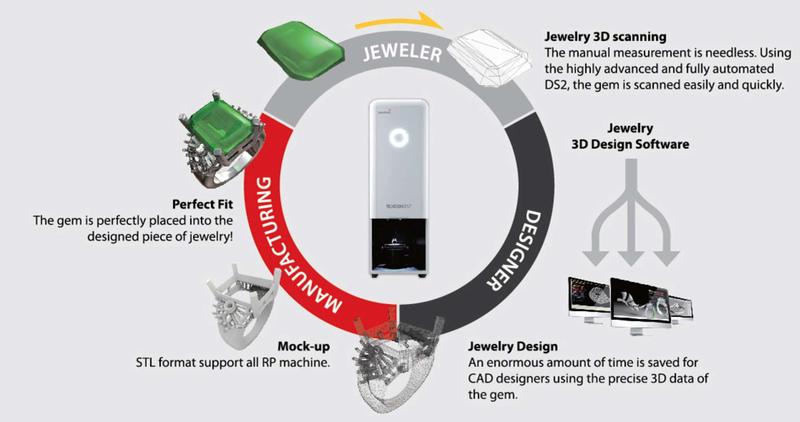 Key Feature
Automated Scanning
3D scanning does not always take lots of work.
With just a single click of a button, users can get their whole
object scanning done very easily and quickly.

Compact Design
With the size of the desktop pc in mind, Rexcan DS2 is designed to
be naturally fit into very limited space like your clinic, dental lab,
office, and even your own desk.
High resolution twin camera with the white LED light source
More accurate and detailed measurement data is obtained using high resolution twin-camera,
backed by the strong light intensity of the white LED projection.

Active Sync
A mouse click away for actively synchronizing the model and camera views, enabling users to
recognize any scanning position and to add more scans where it may be needed.

Customize your scanning path
Depending upon the complexity of the scan object, it may require a different scanning path.
Flexibility of the scanning path customization makes it easy for users to make their own scanning path, allowing repeat data collection on various object sizes and shapes.

Broad Applications
Rexcan DS2 is ideal for measuring small objects such as jewelry, tooth models or coins.
- The jig of the Rexcan DS2 enables easy mounting of any model, and it is possible to measure a wide variety of model shapes.
- Rexcan DS2 comes in different lens. As for small models such as jewelry, tooth or coin, it is
possible to select the most appropriate scanning areas for the objects.
Specification
| Models | 1.3MP version | 5.0MP version |
| --- | --- | --- |
| Camera resolution | 1.3 mega pixel | 5.0 mega pixel |
| Scanning Volume / Point Spacing (unit : mm) | 80 x 60 x 60 | 40 x 30 x 25 |
| Point spacing | 0.05 mm, | 0.065 mm |
| 3D Scanning principle | Phase shifting | optical triangulation |
| Triangulation angle | 15° | |
| Rotary stage | 2-axis movement | (swing and rotation) |
| Size (W x H x D) | 212 mmⅹ370 | mmⅹ449 mm |
| Weight | 12.5 | kg |
| Light source | LED | (30,000 hours) |
| Interface | USB 2.0 | High-speed |
| Power | AC 85 ~ 265V / 47 ~ 63Hz | Volt free contact |
| Output data format | STL | |
| O/S | Windows XP(32bit), | Windows 7(32/64bit) |